Strategic Marketing
For Remodelers & Custom Home Builders
Grow Your Construction Business with Guaranteed Results.
Learn More
Profitable Growth through Marketing Strategy
You wouldn't remodel or build a home without a plan — you shouldn't market without one either. You offer design+build services, which allow you to create the most magnificent, beautiful spaces for your clients. We do the same for your marketing.
When you work with us, we always start by designing a strategic marketing plan that pulls in tactics from all your marketing & advertising channels. Everything included works together to build profitable growth for your remodeling business.
Designed to Deliver
We take your marketing seriously. This is not just throwing posts up on Instagram, compiling project photos on your website, or making sure your contact form is set up properly. When we design your Remodeler Marketing Blueprint, you'll receive a complete plan of every marketing and advertising tactic to hit your profit and revenue goals. All of this wrapped up in the most beautiful, detailed presentation you've ever received.
Built for Performance
Every Remodeler Marketing Blueprint comes paired with a Project Management Board to match. You'll not only know exactly what tactics to use down to the letter. But you'll also be able to easily follow along - knowing what to do when and tracking your progress fluidly on your path to success.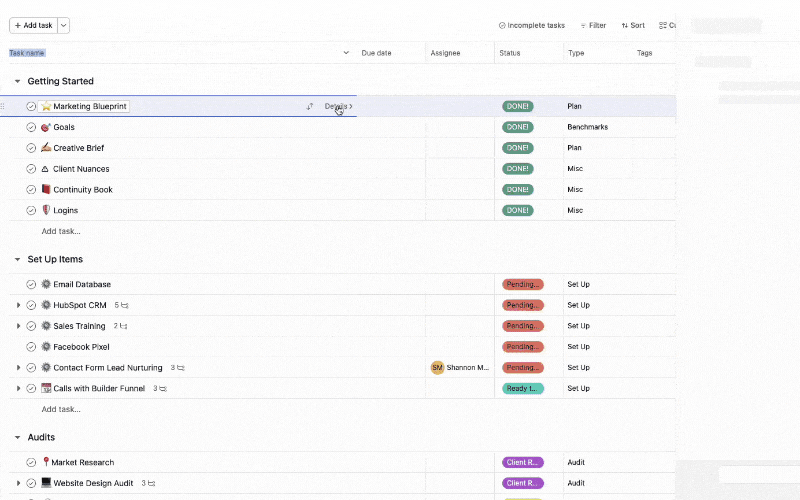 Backed by Results
It wasn't enough for us to create the most beautiful marketing plan you've ever received AND the most comprehensive project management system for implementing your best marketing year ever. Your Remodeler Marketing Blueprint is backed by real results that we've been achieving for remodelers over the last 12 years — and by results, we don't mean vanity metrics — we're talking about real increases in closed sales, revenue, and profit. We're so confident you'll love your Remodeler Marketing Blueprint, we guarantee results.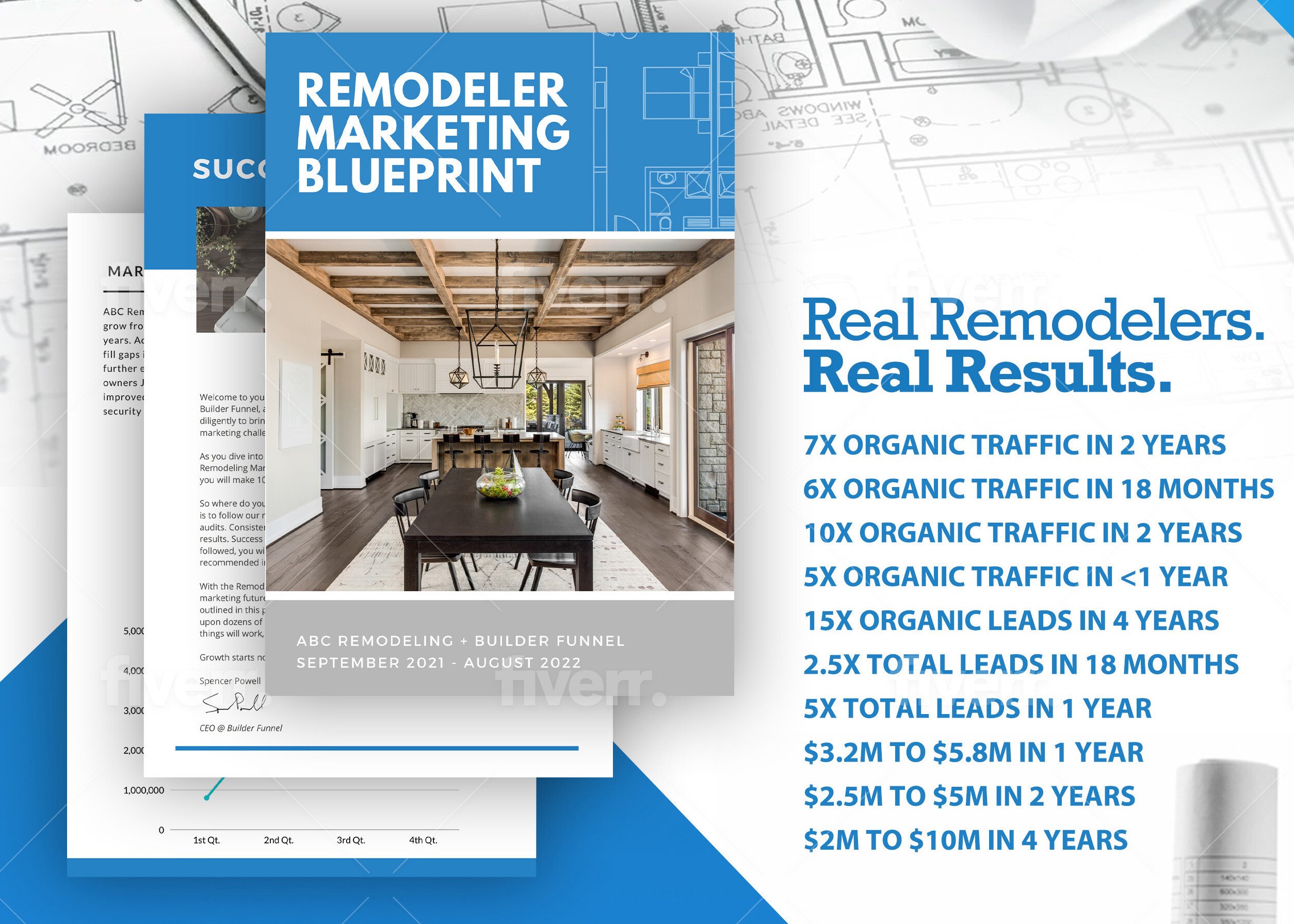 Before we ever recommend working together, you'll meet with our CEO, Spencer Powell. During this process, we'll learn more about your remodeling business, current challenges, and business goals. In addition, you'll discover more about Builder Funnel and what we can do to help you achieve success. One of our core values is Do the Right Thing — You can always trust Builder Funnel to recommend what's best for your remodeling business, whether it's working with another company, an internal marketer, or our agency.
If it looks like you'd benefit from Builder Funnel's strategic marketing services, we move forward with a Remodeler Marketing Blueprint. During this stage, we develop a holistic, in-depth marketing strategy for your remodeling business. Say goodbye to disjointed tactics, ineffective campaigns, and unproven methods. We guarantee results with our Blueprints, and everything we recommend directly ties back to your revenue & profit goals.
Once your Remodeler Marketing Blueprint is complete, it's time to choose the best way to implement your strategy. Your Blueprint can be implemented by Builder Funnel, another company, or an internal teammate. Once you make the best choice for your remodeling business, you can sit back and rest easy knowing that every marketing tactic you do connects to the ultimate goal of your growth.
Your Business. Your Blueprint.
Discover the core components inside your custom Remodeler Marketing Blueprint. These elements work together to identify the most profitable opportunities for your remodeling business and utilize them to get results!
I have really enjoyed working with Builder Funnel. They have done a great job listening, absorbing feedback and, in general, just making my life a whole lot easier as update our marketing efforts. Builder Funnel has delivered as promised, and I look forward to our continued collaborations!
Robinson Renovation & Custom Homes
Construction can be a very difficult business. Managing jobs, relationships and time are critical. Then there's driving business to the bottom line. The Builder Funnel team has assembled a very useful set of tools and knowledge to help get you where you want to go.
We've been working w/ Builder Funnel for several years now. The personal contact can't be beat! They know the ins and outs of social media - and are able to lead us in a direction which results in new leads! I would highly recommend them to anyone!
Country Classics has been working with Builder Funnel for over 3 years now and we couldn't recommend them more! Traffic, leads, and social media have increased tremendously each and every year. We are happy with the progress we've made, monthly reports and updating we receive, and our future goals we create. Looking forward to many more years of working with them!
We have been working with Builder Funnel for 2 years. We have become proficient in utilizing inbound marketing and social media tools to expand our marketing efforts. We have developed an easy working relationship with Builder Funnel and we can depend upon Spencer, in particular, to elevate our marketing efforts.
Love What You See?
Achieve lasting results for your design-build remodeling or custom home building business.
Schedule Meeting