A Community Exclusively for
Design-Build,Kitchen,Home,Bathroom,Luxury,Family-Owned,Expert,Rural,Urban,Motivated

Remodelers
Grow together with like-minded, friendly professionals in the remodeling industry
Join Dozens of Remodeling Companies on the Path to Success
The REMODELER GROWTH COMMUNITY was built for remodeling business owners and team members that want to advance their companies and grow personally and professionally.
Your Exclusive Inside Look!
See inside the remodeler growth community
Connect, Collaborate, Grow. Join our community built exclusively for individuals and teams in the remodeling industry, and discover the best path to personal, professional, and business growth!
Built with Intention
Enjoy An Easy-to-use community interface on any device
Be apart of something special. Other communities get lost in the noise of social media. Our community has it's own app and website - allowing all of us to be intentional with engaging with one another!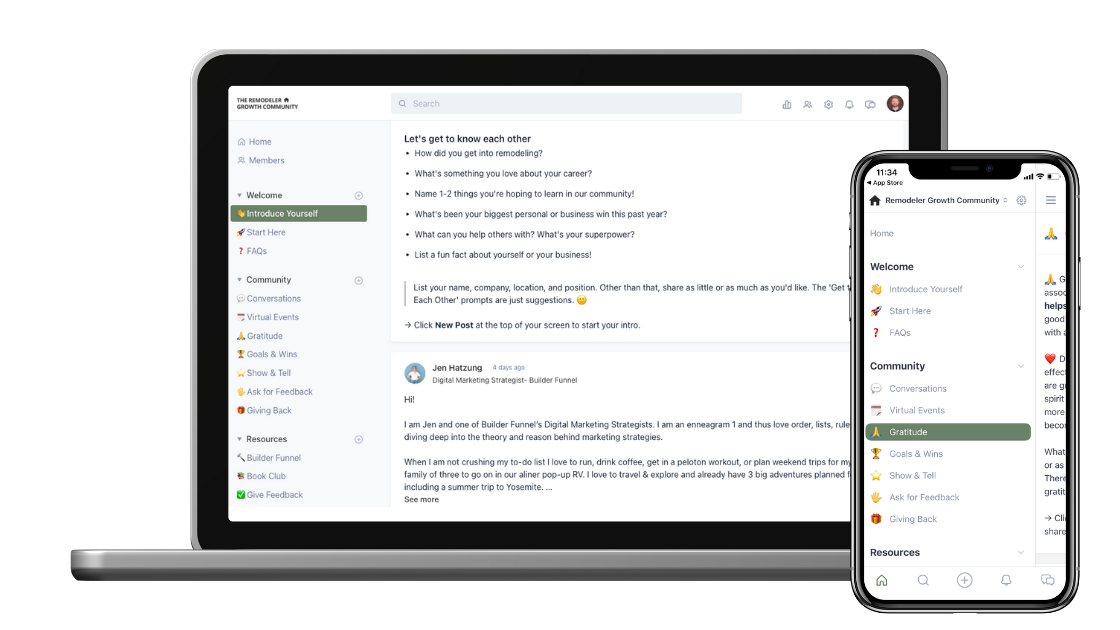 Claim Your $5000 Bonus
Get Builder Funnel academy free forever with membership
All Remodeler Growth Community members receive lifetime access to Builder Funnel Academy, the #1 marketing program for remodeling companies [$5000 Value].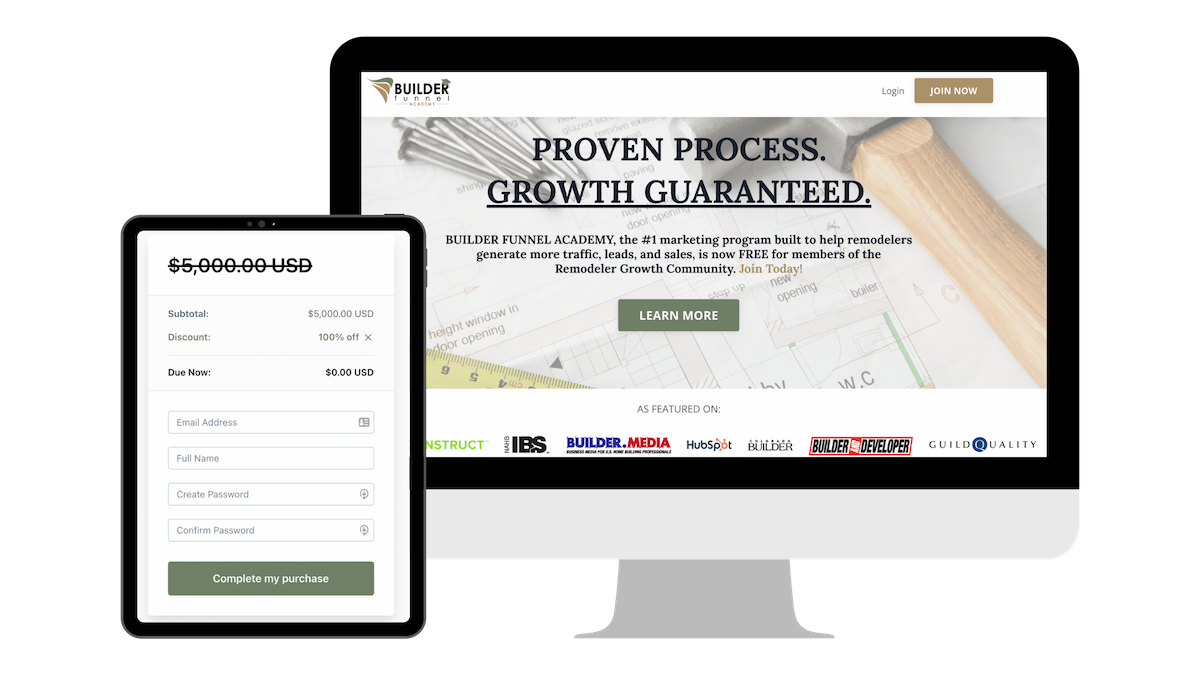 Built Just for You
Individual Subscription
For Growth-Driven Individuals
Builder Funnel Academy Lifetime Access [$5000 Value]
Grow Personally & Professionally
Quick Answers to Your Burning Questions
Crowdsource Help to Tackle Challenges
Accountability to Achieve Your Goals
Expert-Led Lectures & Workshops
A Supportive Community - We're Here for YOU
Perfect for Individuals that Work in Remodeling
100% Risk-Free. Cancel Anytime for Any Reason,
and Receive a Full Refund for Your Last Payment.
Includes 5 Team Members
Team Subscription
For Growth-Driven Teams
Everything in the Individual Subscription +
Membership for Up to 5 Team Members!
Promote a Growth-Mindset among your Team
Improve your Company Culture
Learn from other Successful Remodelers
Business Resources to Save You Time & Money
Perfect for Motivated Remodeling Companies
Works Out to Less than $20 Per Person
100% Risk-Free. Cancel Anytime for Any Reason,
and Receive a Full Refund for Your Last Payment.
Let's do this. Together.
Click on the button below to join the REMODELER GROWTH COMMUNITY. Your warm welcome awaits!
Join Now