Grow Your
Home,Design-Build,Kitchen,Bathroom,Luxury,Family,Rural,Urban

Remodeling Business
Join the #1 online community for remodelers, and grow together with like-minded business owners & marketers in the remodeling industry.
Join 100+ Remodeling Companies on the Path to Success
The REMODELER GROWTH COMMUNITY was built for remodeling business owners and team members that want to advance their companies and grow personally and professionally.
The Growth Library for Remodelers
[$4000 Value]
Grow your remodeling business quickly and easily. Results guaranteed.
📱 Instagram Story Templates for Remodelers
Achieve 5-10x story views over feed posts, increase story saves & shares, and post less fluff on Instagram. These 70+ Instagram Story Templates beautifully highlight your remodeling services while saving you $1000s vs. other social options and taking 2-5 hours less time per month than starting from scratch!
🎥 Video Scripts for Remodelers
Connect with your audience, increase website traffic, beat your competitors, and improve search engine rankings with pre-built scripts that tell you exactly what to say when recording videos for your remodeling business.
🔎 SEO Plan for Remodelers
Fill in the plan, update your website, and you'll rank for more remodeling search terms, rank for more location search terms, represent your company clearly, actually be found by locals in search, and give your website a strong foundation for growth!
🎨 Branding Kit for Remodelers
Define your company's brand, create consistent messaging, and simplify your marketing with a document to add your colors, logos, fonts, photography, messaging, aesthetic, and other details all in one place!
💁‍♀️ Buyer Persona Template for Remodelers
Understand your best clients, decrease friction with prospects, and increase lead conversion. Organize information on your ideal customers in one place to reach the right people with your marketing while creating happier client relationships!
📈 Technology, Trainings, & Experts
It's not just the templates! The Growth Library also includes expert-level trainings to accelerate growth, industry experts to help you solve any business challenge, and hand-selected software and technology to perfect your processes.
Get a Sneak Peak into our Virtual Events
These events help remodelers like you shortcut the process to achieving sustainable business growth.
📲 The Social Media Landscape - 2022 & Beyond
with Danielle Russell
In this session, you'll learn...
⏱ How Social Media Has Evolved Over Time & What's Next
❌ Why Your Social Efforts Aren't Working Anymore
😱 What Is Even Going on with Meta (Formerly Facebook)
📈 Powerful Social Marketing Tactics That Still Work Today
✅ Dos & Don'ts for Each Social Network
🔮 Our Predictions for What's Next [Based on 12+ Years Exp]
💻 How to Get More and BETTER Leads: Website Conversion Best Practices
with Spencer Powell
In this session, you'll learn...
🔄 The 3-step conversion process
💪 Best practices around lead conversion
📈 How to attract the best leads and propel the junk leads
💵 How 1 Remodeler Charges $1,000 for Consultations AND Lands Better Projects
with Brian Freeman
In this session, you'll learn...
📈 Explore how Brian ramped up to 165 organic leads/month
✅ Get a list of questions to add to your form to qualify leads
🖥️ See step-by-step exactly how this consultation funnel works
💰 Learn how Freeman's Construction landed 44 $1000 consultations
📫 Discover how Brian refers leads to other companies for an extra profit
💰 Wealth Building 101: Turn Business Profits into Passive Cash Flow
with Spencer Powell
In this session, you'll learn:
💵 The power of cash flow over overall returns
⏰ The most valuable resource cash flow enables
🏖️ The real definition of retirement
📈 Turning passive into active income
💰 How to start buying income
Your Exclusive Inside Look!
See inside the remodeler growth community
Connect, Collaborate, Grow. Join our community built exclusively for individuals and teams in the remodeling industry, and discover the best path to personal, professional, and business growth!
Built with Intention
Enjoy An Easy-to-use community interface on any device
Be apart of something special. Other communities get lost in the noise of social media. Our community has it's own app and website - allowing all of us to be intentional with engaging with one another!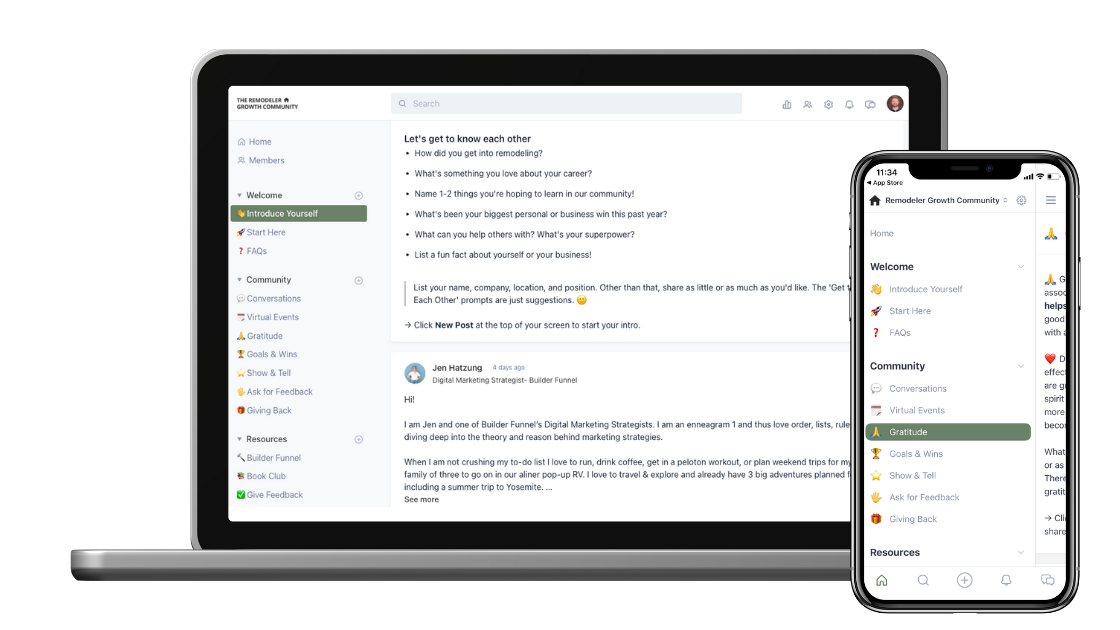 Claim Your $5000 Bonus
Get Builder Funnel academy free forever with membership
All Remodeler Growth Community members receive lifetime access to Builder Funnel Academy, the #1 marketing program for remodeling companies [$5000 Value].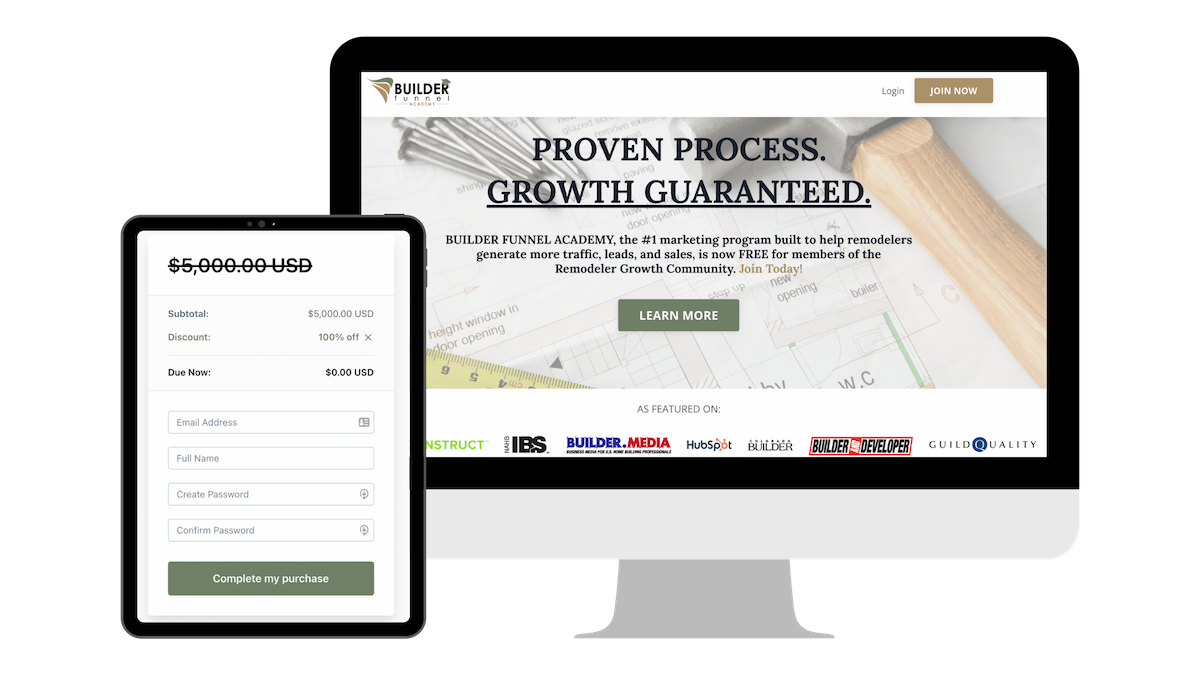 APPLY TODAY AND GET ACCESS TO...
Growth Library for Remodelers [$4000 Value]
Builder Funnel Academy Lifetime Access [$5000 Value]
& Everything in the Individual Subscription +
Membership for Up to 5 Team Members!
Promote a Growth-Mindset among your Team
Learn from other Successful Remodelers
Save You Time & Money for your Company
Perfect for Motivated Remodeling Companies
Comes to Less than $20 Per Person