Notice that in the example of a poor heading structure the last two points are connected (Do Your Research and How Long it Takes to Build a New House), but those are not the points that are truly related. Instead the related points, as seen in the example of a good heading structure, are Do Your Research as a tip for hiring the right contractor, and then separate from both of those is How Long it Takes to Build a New House.
Moral of the story: be nice to the search engine crawlers and keep your heading tags in descending order.
3. Use a heading every 200-300 words
Not only does using headings and subheadings every 200-300 words help organize your thoughts, it helps readers follow your writing. It also helps crawlers know exactly what your content is about, and is becoming increasingly important with the rise of jump link search results (A.K.A. "fraggles").
4. Use headings as structural guides, not as ways to style your text
If you use a website builder, like WordPress, Wix, Squarespace, GoDaddy Sites, or any variety of other platforms, you likely see a text editing box when you go to add content to a page, which looks something like this: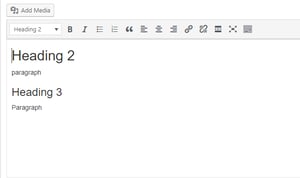 ← There is a text styling option where you can set a heading or paragraph style.
It is common to use this feature as a way to style text, but that it not what it is for. It may not seem like a big deal, but here's why this can mess up your SEO:
Search engines use H tags (headings denotations) to quickly determine what a website page is about as they decide which results to show to researchers.
There are two main files that make up your website as you see it visually, the HTML file and the CSS file:

The HTML file houses the content on the page in a raw, unstyled form.
The CSS file is the styling sheet for your page and styles the content in your HTML file based on IDs.
Okay, so…why does it matter?
Well, if you are using the heading settings (as pictured above) as a way to style your content instead of as a way to tell search engine crawlers what the page is about, you can end up with something that looks like this: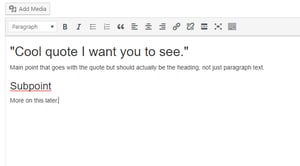 ← It is common for people to want to make a cool quote bigger, so they use a bigger heading, even though it should just be paragraph text made larger.
But now search crawlers don't associate your subpoint with the real parent point as well.

Page Content
The content on your page is another important SEO and ranking factor. Google and other search engines like to see that your page has value and relevance to the keywords you're targeting. Search Engines want their users to be satisfied when they produce a search term and click on a result in the search engine. This means your page needs to have added value that answers users questions.
For Google to rank your page as a quality page, and therefore bumping up your Google ranking status, you should write at least 300 words on your page. Any page with less than 300 words will be seen by Google as not useful for users and therefore Google won't rank the page as high. For smaller pages try to shoot for between 500 and 700 words. For longer more encompassing pages strive for 1,000 to 2,000 words. The more words on the page, the more useful Google deems your content and your ranking potential increases.
Another essential aspect of page content is relevance and keywords. How relevant to a certain keyword is your page? Do you provide quality information on the subject or is your page about something completely different than your keywords in your headings, page title and meta description? Google will notice and doc your rankings if your page isn't consistent with relevant content. You may be tempted to use a variety of keywords related to a topic but Google sees this as keyword stuffing and your page will be penalized. You should use keyword variations throughout your text so Google knows that you're staying on the same or similar subject.
Related resource - Topic Clusters: A Simpler Way for Remodelers to Think About Content and SEO
User Experience
Everything related to the way your website or webpage ranks in Google boils down to it's overall user friendliness. There is a lot of debate about which ranking factors matter the most to move the needle for your SEO, but when you look behind the shouting and pointing of fingers, you see that at the end of the day, Google rewards websites that engage their users best by providing quality content and answers to searchers questions.

So should you care about:
Decreasing page load time?
Decreasing bounce rate?
Optimizing time on page and page views per session?
Decreasing Search Console errors?
Implementing internal linking strategies?
And "all the things"?
YES, because everything in the list above is directly reflective of your user experience. Make sure everything on your website is for the benefit of your user, because that will help your SEO most.
---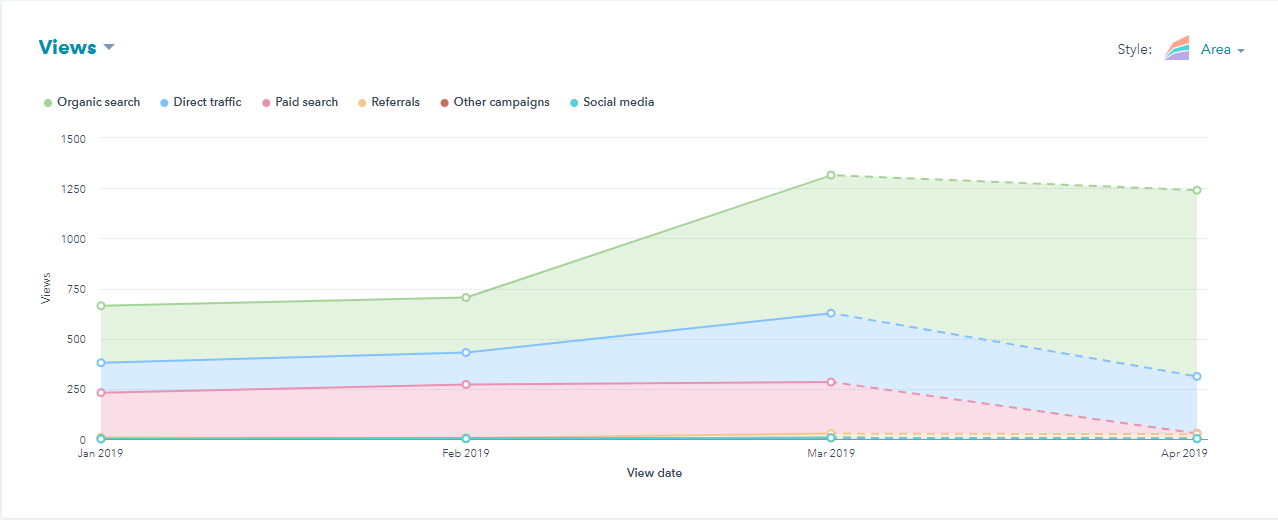 ---

Keyword Targeted SEO Efforts
Keyword targeting is an important way to keep your web pages relevant, and it's mostly a matter of making sure the phrases your target audience is searching online are the phrases you use in your web content.
Keyword Research
Some people say keyword targeting is dead, but rather, it has evolved. Remember how everything about your website should be focused on improving user experience? The same principle applies here.
The keywords and key phrases you target should be based on how you can provide value to a researcher who finds your page. Keyword stuffing — putting as many keywords on a page as you can — is a big NO-NO. But understanding the "Why?" behind your target audience's search queries and crafting quality content to answer their questions is what you should try to accomplish.
So, if you aren't genuinely answering questions about "bathroom remodeling costs" on a page, don't try to keyword stuff those terms just to rank for that term or phrase. But, if you do have a page about "bathroom remodeling costs," by all means harness that potential, because your users care about that info, and it will help them.
Related Resource: How to Use the Right Keywords in Your Home Builder Marketing
Understand and answer people's questions:
There are lots of ways to figure out what people are searching for. You can use
Google's Keyword Planner
SEMRush
Ahrefs
and other keyword research tools, but that's not it. There are several creative ways to ensure you're answering the user intent of search queries. This includes answering the questions you find in
Google's "People Also Ask" Dropdowns
Quora
Reddit
Answer the Public
Houzz
For example, when people search for the phrase "build versus buy" in Google, you'll see a "people also ask" section with dropdown SERP answers to questions Google has deemed related to the "build versus buy" search query.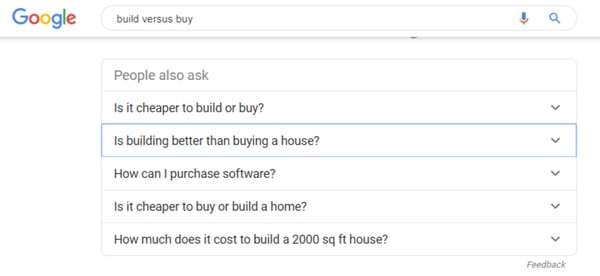 This means that if you are writing a blog on building versus buying a home in Virginia, for example, including answers to these "people also ask" questions boosts your potential to rank well for that blog.
Internal Linking Strategies
Links are important for Google to determine the value of your web pages, and also function by helping your own pages boost each other's value.
"What on earth is internal linking?"
Internal linking is the SEO technique whereby you include links from one piece of your content to another relevant piece of content and vice versa.
This might seem like unnecessary effort, but it will boost your ranking potential for a couple of reasons:
Why internal linking is important:
When you link content together,

Google search crawlers recognize that the content is related. When Google sees that your site has content on a variety of topics related to home building or home remodeling in your location, it will see your site as more of an expert on the topic and is more likely to pull your content into search queries. To do this, be sure you

Link content to your service pages
Link content to other related blogs
Link content to landing pages to capture leads

Internal linking increases user experience,

which is another prominent factor in Google's decision of whether or not to display your content in search results.

You increase the potential for users to visit multiple pages on your site in a session, which Google views as a positive sign that people like reading your stuff.
You give people direction in where to find additional answers to their questions that spawn off of the original post.

You reduce the risk of having "orphaned pages"

which Google will "Ding" you for. Orphaned pages are pages that are published as part of your site that aren't linked to by any other page, meaning search engines can find them, but users can't. And if users can't find them, that is poor user experience, which again, is what Google cares most about.
You can drive more traffic to pages that convert leads,

but may not rank well organically. Not all content will be a winner for generating organic search traffic, but that doesn't mean it is not a good piece of content or a good page for conversions! Internal linking can help increase direct traffic to high converting pages that struggle to be seen in search results but help guide users down the funnel.
Local SEO
If you're a localized home builder or remodeler, you'll want to make sure you're targeting the people in your area who can utilize your services. In this section we explore some simple tactics you can use to better target the area you serve.
Location Location Location - NAP citations
Location specificity is vital for local home builders and remodelers. If you're not targeting the entire nation, you don't want to use generalized keywords that will attract customers in the wrong locations. One way to ensure you're hitting the right target audience is to ensure your SEO NAPs (Name, Address, and Phone Number) are correct and consistent throughout the web. NAPs can become inconsistent when your business moves, changes phone numbers, changes names or typing the name or address differently in different places across the web.
NAPs are important to your ranking factors because they reflect your online authority. If your NAPs are inconsistent, your authority is diminished and your business appears lower on search results, even if your content is exactly what a user is searching for.
It's easy to have inconsistencies in your NAPs because Google takes into account every mention of your business online. From your website to your social accounts and third party directories Google crawls everything. Even NAP discrepancies as seemingly trivial as "South 21st Street" versus "S. 21st Street" will negatively affect your authority and ranking.
Incorrect NAPs can also be frustrating for potential customers and lose you business if the user can't get ahold of you because of outdated, incorrect information.
So, should you be checking your NAPs? If your business is less than a year old, and you've never moved locations or changed names or changed any other aspect of your business, then you're probably doing OK. However, if your business is older, you've likely changed at least one aspect of your business and it would be a good idea to check on your NAPs.

---
Here's how you can do a quick search to see if you need to clean up your listings.
Visit Moz Local

https://moz.com/local/search
Type in your Business Name and Zip Code and click "Check my Listing"
View your score - The higher your score, the more consistent and correct your NAPs are across all listings on the internet. Your goal should be 85% accurate or higher.
Check areas for Improvement - View the Incomplete, Inconsistent and Duplicate tabs to see where your business is lacking in the area of NAPs. Make note of your areas for improvement and fix the inconsistencies on each site manually or by purchasing Moz's citation cleanup (it's worth it)
---

Local Keyword Targeting / Location Targeting
Another way to ensure you're attracting the right people is to use location specific keyword targeting. All this means is adding specific locations to top keywords so users in and around those areas can find your content more easily.
Target local keywords and locations by taking a strategic approach to your webpages. Think about the kind of topics potential customers would search for and present that information in a way your audience would likely search on Google. For example, if your clients frequently ask you questions about the timeline of building or remodeling a house, try writing a blog titled, "How Long Will My Kitchen Remodel Take in [insert city name here]?". Using the question format for the title of the blog will help users find your information as that is how they will search for answers to their questions. For more local keyword targeting blog opportunities, take a look at 257 Effective Home Builder Blog Topic Ideas.
Google My Business
Google My Business is the latest and greatest social network that will positively impact your rankings in the Google search engine. Keeping your Google My Business Listing up to date with correct NAPs, photos, offers, posts, and reviews can mean the difference in where you rank on Google, especially against your competitors.
You should be updating your Google My Business listing weekly via the "Google Posts" section to include new photos, company news, special offers, and recent blogs. Be sure to leave personalized responses to reviews and update business info when applicable such as holiday hours or closures. Read more about perfecting your Google My Business Listing with our Complete Guide to Google My Business for Home Builders and Remodelers.
Questions to Ask Before You Hire Someone to Do Your SEO
Now you know the importance of SEO, but you still don't have a lot of the know-how – or maybe you just don't have enough time to worry about SEO. If you decide to hire somebody to do your SEO for your company, make sure you're asking all the right questions:

1. Can I See Some Case Studies or Examples of Other Clients You've Helped?
This question will help you get to know the company's process, go-to strategies, and see first hand the results their clients have had. Remember, your company is unique so you can expect your results to be unique to your company Here are a couple of Builder Funnel's own case studies:
2. Which Keywords Bring in the Best Search Volume?
The answer to this question, like many SEO questions, will vary depending on your business, location, competitors and several other factors. However, the company you plan to hire, should know through research, which keywords bring in the best search volume. Frequently, we see a high search volume for anything price or cost related, but there will be several others based on your specific services and location that will be high ranking potential keywords.
3. How Difficult Will it Be to Beat out My Competitors?
Again, this depends on many factors including, your website's age and domain authority the content on your website, how many competitors are in your area, the SEO practices they have in place, and other SEO factors. When you're vetting potential companies to do your SEO, they should talk about auditing your competitors online presence to be able to give you a better idea of what it will take to beat out your competitors.
4. How Quickly Will I Rank #1?
In all transparency, ranking #1 on Google can never be guaranteed and is most easily answered on an individual basis. Your ability to climb the Google ladder depends on which keywords you're looking to rank for and the digital footprint of your competitors Your timeline will also depend on where you are currently ranking. If you're on the second page of Google, it will be a much quicker ride to #1 than if you're on the 3rd, 4th or 5th pages of Google. Your prospective SEO company should be able to give you a better estimate.
5. What Keywords Will I Rank for?
Most people want to rank for every keyword, but that's not practical. Make sure the company you hire has a firm grasp on what's possible and what may be too far fetched. Be sure the keywords they suggest you rank for support the search intent of your target audience who would be searching for services you offer. The company should be able to give you a good list of ranking potential keywords and how difficult it will be to rank for each one.
6. Which Strategies Will You Use?
There should be strategies and tactics in place by a company in order to help your website SEO and search ranking potential. At Builder Funnel, we use a variety of methods depending on your business goals to create the best results for you. Here are some examples of tactics we use in our SEO practices:
Image Optimization

Headings
Ranking Keywords (current vs. potential)
Meta Tags
Meta Descriptions
Broken links
Social Media Audit
Content and User Experience Audit
SEO Recap and Next Steps
SEO is important in any industry, but it's especially important for home builders and remodelers who are looking to gain a competitive advantage on search engines such as Google. Remember the three main factors to implement in your SEO plan: Technical SEO, Keyword Targeted SEO and Local SEO.
If you need to boost your SEO game, but just don't have the time, we can help. Schedule a call with our president Spencer Powell to see what we can do for your home building or remodeling business.